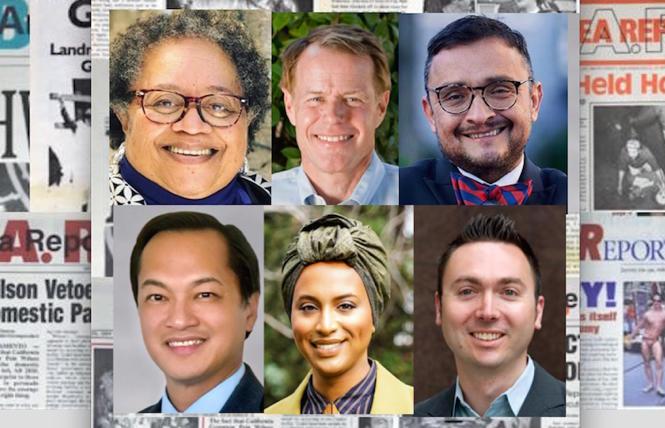 Seventh BAR Talk to focus on local politics
The politics across five decades of Bay Area Reporter coverage will be discussed by a esteemed panel of local officials, with associate editor and political columnist Matthew S. Bajko, on Thursday, Nov. 4 at 6 p.m. ET.
The seventh BAR Talks roundtable, "LGBTQ Politics and the Press," will include former San Mateo County Port Commissioner Robert Bernardo, director of communications for the Port of Oakland; David Campos, Chief of Staff to San Francisco District Attorney Chesa Boudin; Gwenn Craig, activist and two-term president of the Harvey Milk LGBT Democratic Club; Honey Mahogany, chairman of the San Francisco Democratic Party and legislative assistant to San Francisco District 6 supervisor Matt Haney; and Ken Yeager, the first LGBTQ person elected to the San Jose City Council and Santa Clara County Oversight Board who co-founded the Bay Area Municipal Elections Committee.
The conference will be viewed live, and then archived, on the Bay Area Reporter Facebook page, ww.facebook.com/BayAreaReporter and on the YouTube channel, www.youtube.com/c/bayareareportersf
Matthew S. Bajko (moderator) is Associate Editor at The Bay Area Reporter, the nation's oldest continuously running LGBTQ newspaper, where he worked for two decades. Since the fall of 2006, he has written the newspaper's political column, started by gay political pioneer Harvey Milk, covering the Bay Area and California's LGBTQ political scene, and also writes a monthly economic news column.
In 2017, he was named USC Health Journalism Fellow and wrote a three-part series on collecting LGBTQ demographic data on government forms and surveys. He was also a 2013 MetLife Foundation Journalists in Aging Fellow, supervised by New America Media and the Gerontological Society of America. This resulted in a month-long series on issues facing older LGBT people, which took place in April 2014, and invitations to be a returning scholar in subsequent years.
An award-winning journalist, he freelances for the monthly neighborhood newspaper Noe Valley Voice. For his coverage of the LGBTQ community, in 2015 he was proclaimed Crown Prince of America of the International Court by Empress Nicole the Great Queen Mother I of the Americas.
Robert Bernardo is the director of communications for the Port of Oakland, the nation's fifth busiest seaport. The port also owns and operates Oakland International Airport as well as 20 miles of commercial waterfront which includes Jack London Square. He oversees the port's press office, advertising and marketing programs, crisis communications and the website.
Before the port, Bernardo worked in law enforcement. He was a criminal investigator in the San Francisco District Attorney's Office in the 1990s. Bernardo is a former San Mateo County elected official who served two terms from 2010 to 2018. He graduated from the University of California, Davis with a Bachelor of Arts in English.
When not doing his daily job or volunteering with the County Democratic Central Committee, he enjoys going to comic book conventions around the world, and he is also a collector of antique art and toys.
David Campos is currently Chief of Staff to San Francisco District Attorney Chesa Boudin. Campos was brought to this country as an undocumented child, escaping political and economic turmoil in his native Guatemala. He previously served as the Assistant General Manager of Santa Clara County, where he oversaw the Equity and Social Justice Division, the Office of Labor Standards Enforcement, the LGBTQ Affairs Office, the Office women's policy and the census bureau, among other agencies.
He served on the San Francisco Board of Directors for two full terms, representing District 9, which includes the Mission, Bernal Heights and Portola neighborhoods. A former San Francisco Police Commissioner and former general counsel for San Francisco Public Schools, Campos is a graduate of Stanford University and Harvard Law School.
Gwenn Craig moved to San Francisco in 1975. The following year she had become involved in lesbian and gay activism sparked by Anita Bryant's national crusade against anti-discrimination legislation. She has been an active volunteer in Harvey Milk's successful supervision campaign.
In 1978, when the statewide Briggs Initiative / Proposition 6 was put on the ballot to ban lesbian and gay teachers from California public schools, Milk chose Craig and Bill Kraus to co-manage the city-wide campaign organization, San Franciscans Against Proposition 6.
After a successful No on 6 campaign, Craig served two terms as president of the Harvey Milk LGBT Democratic Club and national delegate to the Democratic National Convention in 1980 and in 1984, when she chaired the Lesbian and Gay Caucus at the convention. In San Francisco, she served on the Police Commission from 1987 to 1992 and chaired the San Francisco Redistribution Committees twice, in 1995-99 and in 2002. Now retired, Craig has worked at the UCSF for 25 years as a human resources manager. .
Honey Mahogany is a performer, host, social worker and activist who grew up in San Francisco and received her Masters in Social Welfare from UC Berkeley. Mahogany is currently chairman of the San Francisco Democratic Party and legislative assistant to San Francisco District 6 supervisor Matt Haney. Mahogany is also co-founder of the Transgender Cultural District and co-owner of the legendary Stud Bar. Mahogany has been featured in publications such as Out Magazine, The Advocate, Forbes, and Vogue and has appeared onscreen in several TV series including HBO's Looking, ABC's Our America and – perhaps most famous – Drag. Race of RuPaul.
Mahogany's work earned him recognition from the City of San Francisco and the State of California; Holiness of the Sisters of Perpetual Indulgence; and awards from the Milk Club, SF Young Democrats, SF Women's Political Committee and Women's Foundation of California.
Ken yeager has had a long career both in policy making and as a leader in the LGBTQ community. He came out publicly in 1984 and soon after he co-founded the Bay Area Municipal Elections Committee (BAYMEC), an LGBTQ political organization which, after 37 years, remains South Bay's most influential gay political organization.
Yeager became the first openly gay elected official at all levels in Santa Clara County when he won a seat in the San Jose District / Evergreen Community College in 1992. He won seats on the San Jose City Council in 2000 and on the Supervisory Board in 2006. He obtained his doctorate. from Stanford University, taught at San Jose State University in the Department of Political Science.
In 2018, Yeager became executive director of BAYMEC's ​​nonprofit arm, the BAYMEC Community Foundation, which documents the 50-year history of LGBTQ's struggle for civil rights in Silicon Valley. There are three aspects of the highly regarded project: a website, QueerSiliconValley.org; a museum exhibit that opened in History San Jose in June; and a documentary to watch in class.
Help the Bay Area Reporter keep going through these trying times. To support local, independent and LGBTQ journalism, consider becoming a BAR member.