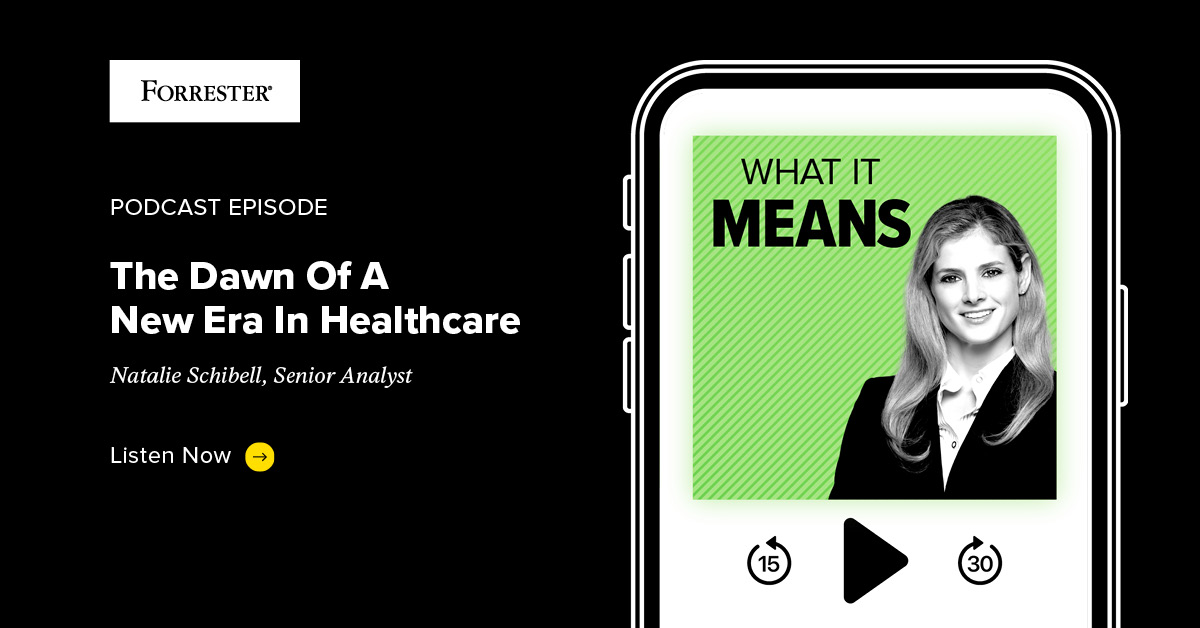 Dawn of a New Era in Healthcare Forrester
With:
Natalie Schibell, Principal Analyst
Show Notes:
No industry has been more affected by the pandemic than healthcare. The effects – both predictable and unexpected – will continue to be felt long after the pandemic is over. Senior Analyst Natalie Schibell breaks down the changes and what lies ahead in this week's podcast.
The biggest change in the past two years, Schibell says, has been the rise of consumerism. "People wanted what they got out of retail experiences," she says. While the expansion of telehealth, primary care in retail pharmacies, and lower-cost direct-to-consumer care models have made health care more convenient and accessible, it has also presented challenges. For example, the need to unify patient data residing in disparate systems – a challenge that predated the pandemic – is now more acute, as patients may see multiple providers.
The pandemic has also exacerbated other challenges. Staff shortages worsened, largely due to stress and burnout. The problem is unlikely to reverse in the coming years, as an aging population and high rates of chronic disease continue to strain the healthcare system. Identifying stressors for healthcare workers and putting resources in place will need to be a priority, says Schibell.
The episode also explores the hospital-at-home trend, which has gained momentum during the pandemic. About 200 hospitals in 34 states now have a version of the model, which allows patients to receive acute care at home. "It's absolutely going to accelerate," Schibell says, noting that research shows these programs improve patient experience, patient outcomes and costs. As the supporting data continues to grow, more insurers will cover these long-term programs.
The episode ends with Schibell's advice for healthcare providers to prepare for the changes. Log in to listen to the full discussion.