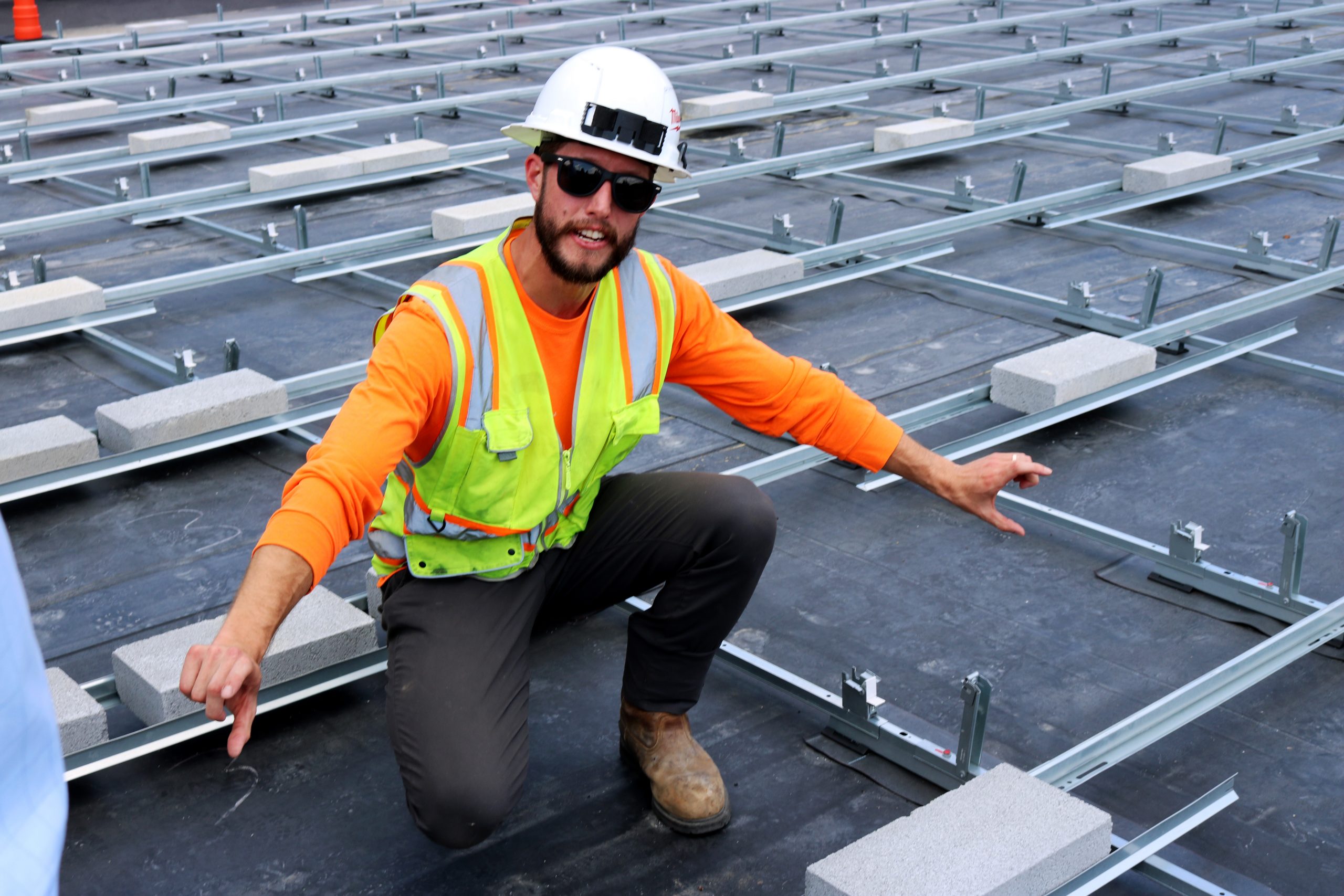 Southwest Virginia School Solar Panels Signal Diverse Economy > Appalachian Voices
By Ben Bolling
On a hot June afternoon in St. Paul, Va., four apprentice installers worked on the roof supports for a new solar power system at St. Paul Elementary School.
The four were part of a cohort of 10 students employed through the Solar Workforce Accelerator program, a partnership between Mountain Empire Community College, Secure Futures Solar, GOT Electric and the Solar Workgroup of Southwest Virginia.
The apprentices received $500 each to participate in classroom training on industrial safety, construction, the national electrical code and solar power installation.
Hands-on training began in June as apprentices worked alongside GOT Electric technicians for eight weeks installing solar panels at public schools in Wise and Lee County. Each student was paid $17 an hour, received a set of tools, and will earn nine credit hours for MECC electrical courses.
"I signed for the money," said Noah Mullins, one of the County Wise students. "But it's a once-in-a-lifetime opportunity with what they've given us."
"The hands-on training is great," said Zack Phipps, another Wise County student. Fellow apprentice Anthony Hamilton agreed. "Yeah, you can see every step of the way, and at the end you can say, 'I built this. ""
"Everything they do, they instantly show us how to do it," Mullins added. "I try to learn as much as possible. If I see someone doing something I've never done before, I'll ask them if I can learn to do it.
The Solar Workforce Accelerator program is one of many victories won by renewable energy advocates in Southwest Virginia. Through persistent work to overcome systemic barriers, communities in coal counties across the state are now diversifying their savings and energy options with solar power.
Many of the renewable energy achievements in the region can be attributed to the Southwest Virginia Solar Task Force. Formed as a result of the 2016 SWVA Economic Forum hosted by UVa-Wise, the Solar Task Force is made up of local governments, community and nonprofit action groups, universities, and state agencies. The group is open to all interested residents and businesses. Appalachian Voices, publisher of The Appalachian Voice, is co-host of the working group.
The passage of the Virginia Clean Economy Act at the 2020 General Assembly helped set the stage for solar growth in the Commonwealth. The Clean Economy Act set ambitious targets for renewable energy and created a mandatory timetable for phasing out fossil fuels by 2050.
Additional legislation and subsequently updated contracts gave local governments more power to negotiate permits with solar developers. These efforts have raised the limits of net metering, which allows utility customers to send the energy generated by their solar panels back to the grid to offset electricity costs. This work has also expanded access to power purchase agreements that allow third-party owners to operate solar panels on behalf of customers. The Wise and Lee County school projects are both power purchase agreements, and in Lee County, three schools will receive roof restoration services as part of the package.
"There is still a lot to do, such as increasing net metering caps," says Matt McFadden, business development associate and solar project coordinator at Secure Futures. "But there has been some really encouraging progress."
"Just one example: The Solar Finance Fund has been a boon to solar development in this region," says McFadden.
The Appalachian Solar Finance Fund is a program that helps local businesses, public institutions, and nonprofit organizations overcome barriers to solar projects through grants and technical assistance.
"We've had a wide range of entities requesting assistance," said Solar Finance Fund project manager Autumn Long. "Everything from nonprofit community farms and educational institutions to churches, public school districts, a humane society and volunteer fire stations."
Solar Finance Fund opportunities are available in counties in six Central Appalachian states. Program partners, including Appalachian Voices, estimate the project will bring 282 new jobs, $5.4 million in energy savings and 64 new commercial or institutional solar projects to central Appalachia.
In southwest Virginia, other solar projects in development include the Mineral Gap data center in Wise County, the first abandoned mine site to be converted to solar in the state. In Buchanan and Tazewell counties, local manufacturers once tied to the coal industry supply chain are beginning to pivot to energy storage applications such as electric vehicle charging stations and battery products.
"They all fit together," McFadden says. "With energy storage projects and large-scale projects, you will need workers who know solar energy and you will have these local people available to do the work rather than having to transport a workforce. I think there are some still think that solar is trying to take jobs from someone else and we're not doing that. We just want to add an option.
The Solar Workforce Accelerator apprentices were thrilled to have the choice. Following the summer training program, Zack Phipps said, "I plan to go to MECC and earn an associate degree to further my career in the solar industry. Isaiah Meeks agreed: "I would like to be an installer and electrician with this company if they accept me.
"For students interested in careers in energy technologies, it has been difficult in the past to see the value of pursuing an education in emerging technologies like solar energy, as it was not clear that the work in the field would be available in the region," says MECC President Kristin Westover. "This program is different because it offers the prospect of careers based in Southwest Virginia."
McFadden remains excited about the continued potential for employment opportunities and solar power generation in the region.
"Southwest Virginia has always been an energy producer," he says. "We want to help with some of the jobs that have been lost, save schools money on the electric bill, and create long-term employment options."
Learn more about the Solar Workgroup of Southwest Virginia at swvasolar.org.