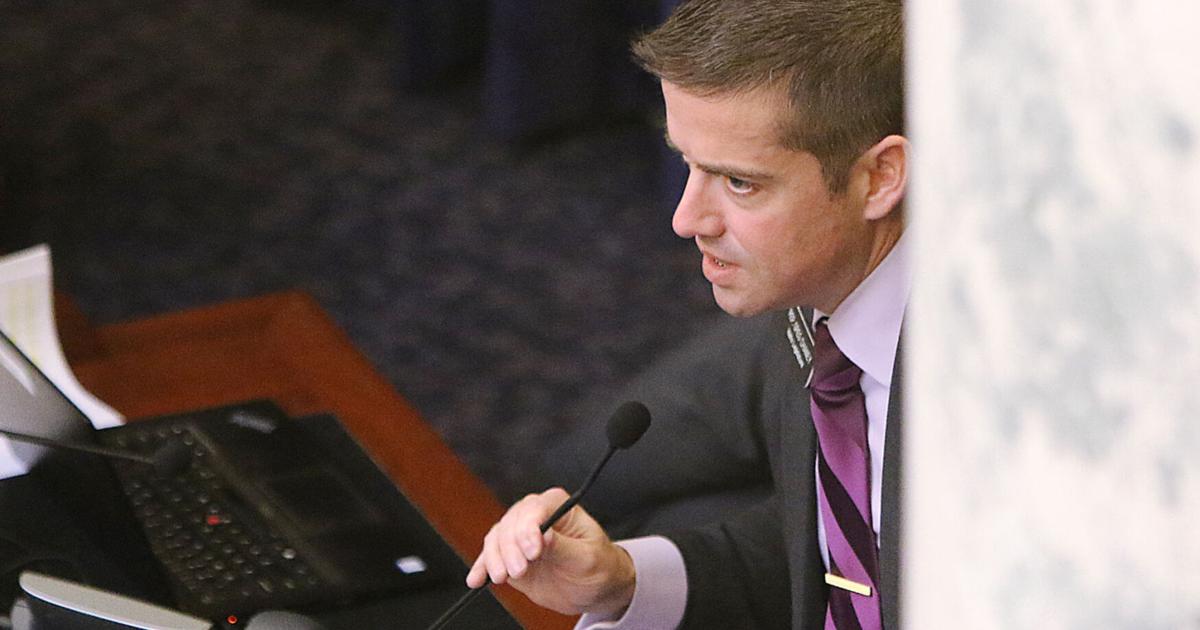 Republicans see division over Idaho Freedom Foundation policy | Local News
The Idaho Republican Party faces a divide between mainstream Republicans and those residing on the far right of the political spectrum, creating dissonance among party members when it comes to policymaking.
Much of the tension is sparked by the Idaho Freedom Foundation, a self-proclaimed conservative think tank that works to expose and defeat "the state's socialist public policies," according to its website.
The IFF's controversial beliefs align with the beliefs and policies of some legislators, who some believe conform to the organization's influence. Some Republicans are unhappy with the struggle this is causing within the party.
Rep. Greg Chaney, R-Caldwell, said while he has his opinions, he believes IFF-backed Republican Party members are more willing to engage in personal attacks and mislead the public. . This heightened tensions in a way Chaney had never seen before.
"This wing of the party is more willing to take liberties with the facts," Chaney said, adding that it creates a roadblock for certain bills to pass when there is misinformation around a certain issue. .
"It's really divided the ability to have a unified voice," Chaney said. "We are still the majority party (in the state). We're still the ones leading the way, but it creates a bit of a landmine by stating that's what we as a party, or we as a house caucus, are doing to solve a specific problem then that there are so many fractures about it."
Meridian City Council member Liz Strader, who was registered as an independent, said in a blog post last week that she decided to register as a Republican in light of current party issues. .
Independents and Democrats switching party affiliation to Republican in an effort to curb far-right political extremism has been a hot topic in the state ahead of May's closed-door primary elections.
When asked to be interviewed for this story, Strader referenced his recent blog post.
"There is an ongoing battle within the GOP for the soul of the state of Idaho, and the stakes are too high for unaffiliated voters to sit on the sidelines," she wrote.
Strader cited his fear of Lt. Gov. Janice McGeachin running for governor of Idaho this year as part of his reason for switching sides.
"Action matters right now, and I will not sit idly by and watch her or future extremists get elected in my beloved state," Strader said in the post.
On February 23, some IFF-backed Idaho House members walked out of a presentation given by members of their own party, American senses Mike Crapo and Jim Risch. The presentation focused on economic updates in Idaho and what members of Congress are doing.
It's unclear why some members left their own party, Chaney said, but he assumed it was in protest. Rep. John McCrostie, D-Garden City, told the Idaho press in a message that he believes it was an intentional snub.
In an interview last year with the Idaho Press, Idaho Senate Speaker Pro-Tem Chuck Winder said the Republican Party has changed.
"One of the main things I've noticed is the influence of the libertarian movement and maybe even more right-wing than that, if that's possible, the Constitutionalists, the impact of the Idaho Freedom Foundation on our party and our politics," Winder said in November.
Canyon County Republican Central Committee Chairwoman Patti Syme said there is a divide between mainstream Republicans and others with a clear agenda.
Mainstream Republicans fight for what's right, she said, while others fight "to be right."
"It's really disheartening for someone who is so passionate about our state, love our state, people getting along and working together to see people who don't. They just want to beat you up, take you down," Syme said. "There are people with such an agenda that they don't listen to anyone else. This is where our party went.
Chaney said that creates challenges when drafting and debating bills.
"There is a game being played here," he said.
IFF-backed lawmakers are more likely to create a "gotcha" bill, Chaney said, a poorly drafted bill to prove a point based on voting on a particular topic rather than the details of the bill. law.
"The content of the bill is so poor that they are baiting people … who are not part of their faction," he said.
Syme echoed that sentiment, saying some members of the Legislative Assembly are not voting on the details of the bill, but rather on its appearance.
The IFF has a Freedom Index, which scores Idaho lawmakers based on their decisions to vote for or against bills the IFF deems good or bad. Those scores have seeped into the party, with members like Rep. Ron Nate, R-Rexburg, posting their positive score on Facebook.
The IFF will mark members higher based on their vote and the organization's opinion of the bill, Chaney said.
"If they have a 100% freedom score, they don't even look at those bills," Syme said.
Lawmakers scoring high on the freedom index include Rep. Priscilla Giddings, R-White Bird; Rep. Chad Christensen, R-Ammon; Representative Tammy Nichols, R-Middleton; and Nat.
Giddings, Nichols and Nate did not immediately respond to a request for comment.
"Many lawmakers support the Idaho Freedom Foundation and the policies we develop," the IFF told The Idaho Press in a post.
The IFF, which has a policy stated on its website that it will not respond to media inquiries, provided no further comment for this story.
Thanks to claims by right-wing activists that critical race theory is taught in schools, education was a hot topic in the Legislative Assembly last year among IFF supporters and some members of the House, fueling further division within the party itself.
Many IFF-backed lawmakers have voted in favor of anti-criticism race theory bills, cutting funding for education and spreading notions of "indoctrination" fears.
Just recently, Nate tried to cut $1.3 million from Boise State University, Idaho State University and the University of Idaho, claiming that the offices of Equity and inclusion on college campuses violated some education laws, Boise State Public Radio reported.
Boise State Public Radio added that Rep. Scott Syme, R-Caldwell, voted against the motion.
"I don't understand why we would be against teaching anything about the diversity in our society, including people who don't feel included," said Scott Syme, who is Patti Syme's husband.
University of Idaho President Scott Green told the Joint Finance Appropriations Committee in January that the school's budget was cut by $500,000 based on a 'false narrative' of allegations of indoctrination stirred up by the IFF, which brought more attention to the issue at hand.
While certain topics certainly played a role in the rift, including the upcoming primary, Chaney said, it's about trapping someone in a vote.
"(IFF-backed lawmakers) were going to paint us an anti-school choice no matter how many times you voted to support parents' right to choose the education of their choice for their children over the years," he said, adding that it creates a representation problem for the rest of the party.
Anyone can complain, said Patti Syme, but it takes more to find a solution – something no one seems to want.
"If you're upset about something, let's talk about it," she said. "If they're on their agenda, they don't care about anyone else. That's probably why I'm frustrated, appalled and discouraged.
When it comes to the party's future, Chaney remains hopeful, as he thinks the disagreement can also be somewhat productive. Some friction within the party can be a good thing, he said. What's more, Chaney thinks this issue doesn't create a setback for Republicans.
"Without the argument, you feel a little weird moving forward with (a bill) without some sort of alternative viewpoint to consider," he said.
However, Chaney added that with everything going on, people who want victories by IFF-backed lawmakers in the primaries are playing a dangerous game.
"We would be subjected to years of madness before the electorate demanded change," he wrote in a text.
Either the tension persists, he said, or regular Republicans will constantly have this battle.
Syme hopes his party will see kindness as an answer more than anything. People are fed up with "mean" behavior, she said, and it's starting to show.
"My hope is that the right people can see the evidence that others don't want to offer solutions," Syme said. "People who don't want to try to find a way to get along – they're not really Republicans."