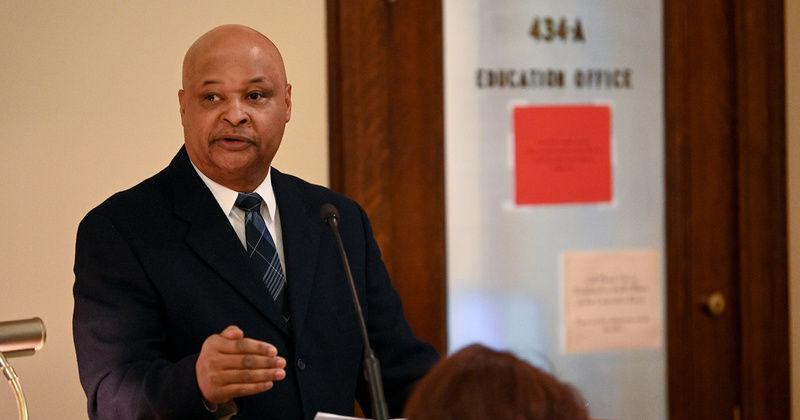 Poverty Legislation Not on the Capitol's Agenda, but on the Minds of Advocates | Politics
Longtime advocates for West Virginia's poorest communities say state leaders can't miss their chance to get it right.
There have been discussions inside the Capitol this legislative session about state finances. Most lawmakers say the government is, for once, running out of money. They also have lots of ideas on how to spend it.
Republican leaders have taken advantage of those surpluses, which political analysts say come from a combination of low revenue estimates and billions of dollars in federal relief, with the agreement of the steel recycling plant Billion dollar Nucor. Other economic projects, such as a planned electric bus installation in South Charleston, borrowed from these surpluses. Various tax cuts and unemployment bills consumed debates in the House and Senate.
What isn't discussed are the lingering effects of generational poverty throughout West Virginia, said the Reverend Matthew Watts, senior pastor of Grace Bible Church on Charleston's West Side. Watts has been in the halls of the Capitol for the past two decades, trying to win support from lawmakers for bills aimed at tackling conditions of poverty head-on.
Disparities in health, wealth, education, economics, criminal justice and housing continue to widen across the country as the United States enters its third year of the pandemic. Watts said he and his fellow advocates have long pushed for significant, state-funded research into these conditions. This research would quantify and identify the problems and legislators could use the results to adopt good policy.
For the most part, pleas from Watts and others have fallen on deaf ears.
Faced with unprecedented challenges, the federal government has flooded states with taxpayer dollars, creating unprecedented resources designed for a truly unique opportunity for generational change, Watts said. The "we're out of money" excuse has been eliminated.
"The only thing missing is unprecedented leadership," Watts said.
Comprised of ministers and community leaders from Charleston — mostly from the West Side — the Tuesday Morning Group has met once a week for decades to discuss current affairs. Watts, the group's chairman, and Rick Martin, its vice-chairman, are again trying to get lawmakers to draw attention to poverty.
The track record of the group working with the Democratic Party is well documented. Despite the strong majority Democrats enjoyed in the 2000s, Kanawha County representatives told Watts not to bring them anything with the word "minority" because their caucus wouldn't pass it. The proposed bills have also failed with Republicans since they seized legislative power in the 2014 election. Watts said there was commitment, but the GOP leadership never pushed the bills through. cross the finish line.
Minorities in West Virginia face far worse conditions of poverty than the rest of the population. One in three black people in West Virginia lived in poverty in 2007 when the majority of Democrats decided it was not a legislative concern, although the poverty rate for Caucasians was half that of blacks, at 17% . Watts and company long ago backed down from appealing to lawmakers on racial disparities and instead asked them to tackle economic inequality among the population.
The Tuesday morning group re-proposed seven previous bills to Governor Jim Justice; Senate Speaker Craig Blair, R-Berkeley; Senate Minority Leader Stephen Baldwin, D-Greenbrier; Speaker of the House Roger Hanshaw, R-Clay; and House Minority Leader Doug Skaff, D-Kanawha, on Feb. 4. Skaff is president of HD Media, publisher of the Charleston Gazette-Mail.
All previous bills have undergone due diligence at the Statehouse over the past two decades, but when lawmakers left after session, the programs created under the bills were neither supported or funded.
"This is a compilation of our work and ideas over this 20-year period," Watts said.
A bill considered by the 2009 legislature, but never moved forward, would have created a community development school pilot program. In 2012, legislators failed to ensure a bill the creation of a special community project focused on at-risk youth was never funded. In 2017, lawmakers passed this legislation again, but again didn't fund it. two bills, a adopted in 2004 and a who died in the House in 2018, specifically targeted small minority business ownership and economic development.
"If you look at the legislations, most of them call for the creation of a pilot project," Watts said.
Members of the group conducted their own research, analyzing data and trying to run their own community programs without state assistance. Lawmakers received the data and the bills, but that wasn't enough to get them to tackle the government systems that exacerbate poverty.
"The only way to change the system is with politics," Watts said.
Justice extended a first olive branch to the Tuesday morning group. In the fall of 2016, his campaign team hosted a meeting with Watts and about 25 other black pastors ahead of the gubernatorial election.
"He said, 'Nobody cares about you. They don't respect you. They don't listen to you and they won't do anything for you," Watts said.
That would change if Justice was elected, Martin recalled, promising the coal magnate.
"He said 'If you're all serious about doing something for the people' – speaking mostly about minority communities – 'I'm your man.'"
After winning the election, Justice agreed to champion a pilot project for the West Side. The bill passed, but the program never received the support the legislation demanded after Justice moved to the Republican Party.
Justice has the opportunity to do something that former governors Earl Ray Tomblin and Joe Manchin did not: devote minimal resources to first-hand research in the poorest areas of West Virginia, Watts said. If community development can happen on the West Side, it can happen anywhere.
There has been virtually no legislative momentum behind a Tuesday morning group measure since the pilot bill, which would also have set up a 20-person team to study health disparities. Watts noted that the Justice Administration ignored his latest idea for an economic equity initiative that would have earmarked 20% of the $1.25 billion in federal pandemic relief funds for all 240 census tracts. estimated West Virginia with a poverty rate of 20% or more.
The group hopes that Justice will finally keep his promise.
"Nothing was done of significance to change the trajectory of the least, the last, the lost, the left behind," Martin said.
"It's not just about health disparities," Martin said. "It's about the disparities across the board."
About 280,000 West Virginians live in poverty, according to the latest census figures. Nearly 70,000 are children. The state's child poverty rate is just under 20%.
Bringing facts to a building where political rule has never benefited the Tuesday morning group. It's been easy for lawmakers and governors to dismiss their concerns as race and neighborhood issues, Watts said.
"Children are dying on the streets and we're not supposed to be worried?
They never protested, made demands or disrespected officials, Watts said. They were just trying to fight for their community like no one else was.
"We kept coming back year after year – year after year – and doing what citizens are meant to do," Watts said. "Engage – to be educated, informed, informed and to engage in the process."
"We feel that we have assumed our responsibility as private citizens."
The West Side has a life expectancy of 62.3 years, according to the census. This joins the West End neighborhood of Huntington as the 27th lowest in the country. The town of Logan on average second lowest at 56.9 – 39% below the national average of 78.6. Five of America's 40 poorest census tracts are in the Mountain State, and one is just a minute's drive from the statehouse.
More than twenty years of community research has gone into the seven bills the Tuesday Morning Group is calling for finally being properly implemented.
"We tried to create a framework that could work anywhere in the state of West Virginia, and we think we did it," Watts said.
If researchers can refute the group's decades of work, Watts said, it will "sit down and shut up."
The National Center for Health Statistics released Data Thursday officially marks West Virginia second to last in average life expectancy at 74.5, down from 75.3, just ahead of Mississippi, another long-troubled state.
Martin called it "insulting" that lawmakers failed to sound the alarm on life expectancy.
"I suspect that one of the reasons there is no public debate from our legislators is that the information presented is irrefutable." said Martin.
The data "seems to be just ignored," he said.
The same was true for the Tuesday morning group. Martin said it was high time for lawmakers to act.
"The resources are there," he said.
"We believe it's the people's money. It's not politicians' money," Watts said.