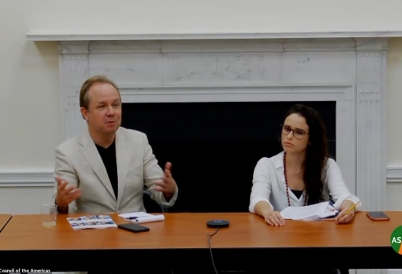 How Millennials Are Changing Latin American Politics
Speakers:
Andrea Moncadajournalist and political analyst
Samuel PerezMember of Congress, Guatemala
Brian Winter, Vice President of Policy, AS/COA; Chief Editor, Quarterly Americas
Louise Francopodcast editor and producer, Quarterly Americas (moderator)
Quarterly Americasin partnership with the Young Professionals of the Americas, hosted How Millennials Are Changing Latin American Politics at AS/COA headquarters in New York on November 2, 2022 to launch QAthe latest special report from on millennia in politics. Andrea Moncada interviewed a dozen millennial politicians for his cover story in this issue and observed that they shared a sense of frustration with unfulfilled promises of greater economic prosperity and a better quality of life, but expressed a desire for incremental change, not 'a revolution. Samuel Perez spoke about his experience as a young politician, noting that democratic deficits and irregular campaign funding in Guatemala and across the region are among the many barriers to young people entering politics. Panelists recommended that Millennial politicians look to their elders for lessons on building consensus and to Gen Z for their effective messaging on the streets and on social media.