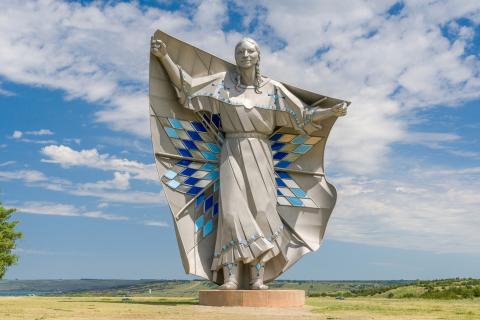 GW to Lead in Promoting Indigenous Tourism and Economic Development | Today
By Nick Erickson
Since joining George Washington University in 2016, director of the International Institute for Tourism Studies and Adjunct Professor at GW School of Business Seleni Matus helped the university become a leader in promoting the voices, histories, and cultures of Indigenous peoples through tourism by forming key partnerships and advocating for national support from the U.S. government.
Some of the Institute's work includes prime tourism alliances in North and South Dakota. In October 2020, the Institute hosted an Indigenous Tourism Forum which discussed the impact of COVID-19 on Indigenous communities and led to the creation of the Indigenous Tourism Collaborative of the Americas.
Ahead of National Native American Heritage Month, GW Today spoke with Matus about some of the institute's work and how the GW community connects with Indigenous communities through tourism. Here is an excerpt from that conversation.
Q: What role has GW played in enhancing Aboriginal tourism efforts?
A: Indigenous peoples are largely invisible in our society, and you find that even involvement in research and technical assistance with these groups is not very common. GW has worked with Indigenous communities for over a decade. The work GW has done with Indigenous communities somewhat predates me. When I arrived at the Institute in 2016, there was already groundwork laid and basic partnerships established. What we've done is really catalyze aboriginal tourism initiatives. Our approach was extremely practical. When the Native American Tourism and Visitor Experience Enhancement Act (NATIVE)– one of the last pieces of legislation signed by President Obama before leaving office – was being drafted by Senator Brian Schatz of Hawaii, the Bureau of Indian Affairs really leaned on us to provide some insight into what it would take to support capacity building nationally to support Indigenous tourism. They used the lessons learned from our project work and incorporated them into their legislative recommendations.
GW's work which helped shape some of the key elements of the NATIVE Act has also been used by the Bureau of Indian Affairs to leverage congressional resources to fund tourism projects. We have always worked with the Bureau of Indian Affairs, and more recently with the Indian Economic Development Bureauboth part of the Ministry of the Interior.
Professor GW Seleni Matus, right, leads a team of students during a tourism asset mapping activity in October 2019 at the South Dakota Tribal Tourism Forum. (Courtesy of Seleni Matus)
---
Q: What is the working structure of the Institute with respect to Indigenous tourism efforts?
A: We work in support of tribal nations to develop indigenous tourism. Since the vast majority of Tribal Nations are in rural areas and smaller communities, we have encouraged Tribal Nations to unite and work together regionally. We have helped support the development of regional tourism alliances. GW helps them build alliances, and then those alliances can form nonprofits, raise their own funds, and start operating on their own. In the first project in North Dakota, the alliance is an ad hoc network developing partnerships and tours in the travel industry and they are now self-sustaining, which is great. Thus, North Dakota is an example of this progression from dependence on us to self-sufficiency.
Q: To what extent are GW students involved in these projects?
A: The Institute employs GW Tourism graduate students early on. All of the students working on these projects in North Dakota, South Dakota and now Maine are from the Master of Science in Tourism, Hospitality and Event Management program. We employ about five or six of them at a time, and they have unique opportunities to help with research, help with project management, help with capacity building and also with field work.
---
Use this interactive map to learn more about the original stewards of the lands in the United States and around the world.
---
Q: What is the relationship between the Aboriginal community and state or federal governments?
A: Tourism development and marketing in the United States occurs primarily at the state tourism level and it is important to note that state tourism efforts have rarely benefited Indigenous communities. Take South Dakota, for example. Tourism is one of the most formidable industries in the state, but tribal nations were until recently completely excluded from the benefits that flow from it. What we've done is not only try to support or foster greater unity among tribes to address these common challenges, but we've also helped build bridges where they didn't exist, creating partnerships between tribal nations and states. Of course, in most of these places the relationship between tribal nations and the state, such as South and North Dakota, is historically tumultuous. But the unique thing about our work is that we've been able to bring together parties that don't ordinarily speak to each other, to really find commonalities, and then work together to find solutions to these challenges in developing tourism in nations. tribal. In the case of the State of South Dakota, the cooperation led by State Tourism and other departments in the creation of the South Dakota Tribal Tourism Alliance and its support for tribal tourism development planning facilitated by GW have been remarkable.
Q: How can the GW community connect with Indigenous communities through tourism, and how can people amplify those voices and stories?
A: It is important to recognize that Indigenous peoples were the original stewards of the land on which GW sits. GW stands on the ancestral lands of Piscataway and Nacotchtank. There is also a Student Union group that represents Native Americans at GW, and it's a wonderful way to engage with the existing Native American community on campus. In terms of supporting aboriginal tourism, I think it's important that wherever our American students are from, whatever state they are in, they learn about the tribal nations in their state and seek to find out what these indigenous communities have to offer.
The best thing you can do is be a visitor in your own backyard to know your place. Respect starts with understanding the nearby Indigenous communities and making real connections with them through tourism, which is a wonderful way to learn about tribal nations. You leave your money in these places, and it will help support families and contribute to the continued economic development of these communities.
---
Friday November 11
2 p.m.
Aboriginal Veterans Procession and Dedication
The Indigenous Veterans Dedication Procession and Ceremony will take place beginning at 2 p.m. on the National Mall as part of a three-day celebration that includes hands-on activities, films, performances and a hospitality suite for veterans. The procession and dedication will be broadcast live.
November 18 to 25
2022 Indigenous Film Showcase (Virtual)
This is an annual celebration of the best Aboriginal films. Embracing the oral histories, knowledge and ancestral lands of their communities, Indigenous filmmakers seek guidance from the past and envision new paths for the future. The showcase provides a unique forum for engagement with filmmakers from Indigenous communities in the Western Hemisphere and the Arctic.
The online program includes a total of 35 films (six feature films and 30 short films) representing 30 indigenous nations in eight different countries: United States, Canada, New Zealand, Mexico, Guatemala, Ecuador, Colombia and Sweden. There are 10 native languages ​​spoken in the movies. Genres include documentaries, music videos, kid-friendly shorts, native language films and more.
Saturday November 19
2 p.m.
Film screening
Imagining the Indian: The Fight Against the Native American Mascot
imagine the indian is a comprehensive review of movement to eradicate demeaning and offensive words, images and gestures from the world of sport. The film dives deep into the issues through archival footage and interviews with those involved in the fight. The psychological research is clear: the use of Native American mascots is detrimental, not only to Native Americans, but to marginalized groups everywhere.
A conversation with Suzan Harjo (Cheyenne/Hodulgee Muscogee), Presidential Medal of Freedom recipient and Indigenous rights advocate, director of the National Museum of the American Indian; Cynthia Chavez Lamar (San Felipe Pueblo/Hopi/Tewa/Navajo); Smithsonian Undersecretary for Museums and Culture Kevin Gover (Pawnee); and founding director of the National Museum of the American Indian W. Richard West Jr. (Southern Cheyenne) will follow the screening.