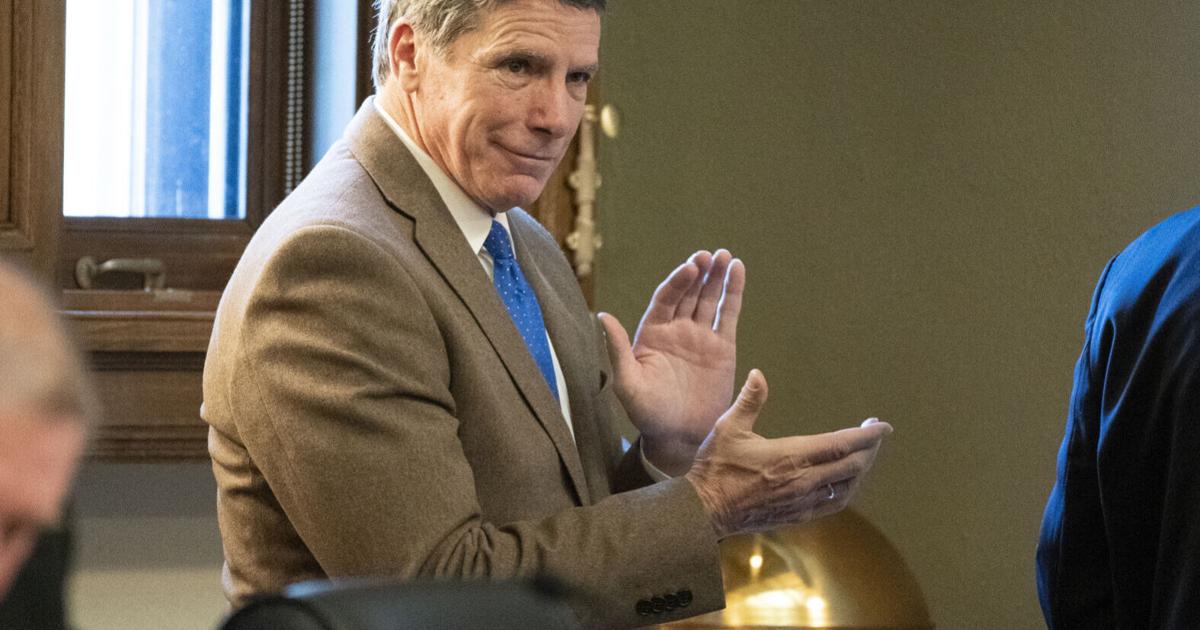 Cross-Voting Bill Heads to House with Unfavorable Recommendation | Government and politics
CHEYENNE — Wyoming residents have long been able to change their party affiliation at the polls on Election Day, and despite at least one lawmaker trying to change that, voters may still be able to do so during the season. election this fall.
After extensive public testimony on Monday, the House Appropriations Committee voted 5-2 to give Senate File 97"Changing party affiliation", a "do not pass" recommendation as she walks up to the House floor.
SF 97 is sponsored by Sen. Bo Biteman, R-Ranchester, and would limit party affiliation changes to months before a primary election. He said the bill is a response to a practice known as cross-voting, in which voters switch ballot registrations in order to vote in the primary election of a party to which they do not belong.
The House Appropriations Committee heard testimony from many people who spoke out against SF 97. Many feared it would limit party affiliation changes to three months before a primary election.
Opponents said it would effectively prevent voters from switching affiliations before they even know which candidates would be on a primary ballot. Others have said they fear it will reduce the number of people voting in an election at a time when people need to be encouraged to vote.
Despite technical difficulties, the committee's co-chair, Rep. Bob Nicholas, R-Cheyenne, allowed public testimony to continue in person and on Zoom for an additional half hour. He reconvened the meeting later in the afternoon for the vote after lawmakers had to take a break for floor sessions.
The SF 97 could be administered at a cost to the secretary of state's office of about $12,540, according to Kai Schon, director of the elections division. The expenditure would be necessary to "increase the tasks or responsibilities of one or more public bodies and could impact the agency's expenditures or staffing requirements". The bill would not change any state agency budgets or ongoing personnel authorizations.
Biteman, who has introduced similar legislation in the past, said the intention was to prevent "borderline cheating" behavior at the polls.
"We've seen in recent elections – a concerted effort by people who have no intention of being with any party, they want to influence the outcome," Biteman said. "I don't think that's fair, and a lot of my constituents think that's not fair. They think that while it may be legal, it borders on cheating.
In February, former President Donald Trump offered his support for the bill. He said it would "ensure that each party's voters would separately choose their candidates in the general election, which they should!"
Later this year, a race between Harriet Hageman, the Trump-endorsed Republican from Wyoming, and Rep. Liz Cheney, R-Wyo., will likely be determined in the primary.
"It makes perfect sense that only Democrats vote in the Democratic primary and only Republicans vote in the Republican primary," Trump's Feb. 17 statement continued.
Testimony
Testifying via Zoom, longtime Casper resident Lisa Smith pushed back against the notion that changing party affiliation at the ballot box is akin to cheating.
"I believe it's my right, and the right of all voters, to be able to vote freely for the candidates they want, and I'm insulted when people say our current system encourages cheating," Smith said. She added that over the past few decades she had voted for Democratic Governors Ed Herschler and Mike Sullivan and Republican Governor Jim Geringer and U.S. Senator Alan Simpson, who is also a Republican.
"My parents taught me to vote for the people I thought were the best candidates and those who served the needs of the state in the best possible way," Smith said, "not so much for a party."
Kathy Russell, who is executive director of the Wyoming Republican Party, told the committee that switching party affiliations at the polls is a tactic used across the country to influence a primary. She said that effectively makes the party's nomination for "nomination by dice, not nomination by ballot."
Mike Lindsey, who said he is a Laramie County resident, said if he is not affiliated with Sam's Club he cannot enter.
"Let's talk about unaffiliated voters. If you're not affiliated, you somehow don't give a damn," Lindsey said. "If you want to participate, you have to join."
Angela Sylvester, a Cheyenne resident who identified as a "busy single mom," asked the committee to vote no on SF 97. She said she was concerned it would make it harder for people to vote, including understood her.
"I try to vote whenever I can, and it would be a huge inconvenience to try to make sure I'm registered (for a certain party) months before an election or a primary," Sylvester said. "Also, I don't like to vote along party lines. I like to vote based on who the right person is, and I don't think it would allow me to do that.
Amendments
The committee heard several amendments to the bill before giving it a negative recommendation.
Rep. Andy Schwartz, D-Jackson, recommended an amendment that would allow a political party to opt out of the provision requiring the change.
"In the case of my particular minority party, or the Constitutional Party or the Libertarian Party, they choose to say you can change your registration at any time, that's their freedom, but if a party chooses to approve it, it's It's his option, as well," Schwartz said.
Rep. Evan Simpson, R-Afton, said the amendment would cause unnecessary complications, but Schwartz pushed back.
"It's about political parties and affiliation. I think requiring a particular party to do something that they don't prefer is more complicated," Schwartz said. "Let them have the freedom to choose."
Rep. Clark Stith, R-Rock Springs, has proposed an amendment that would change the language from "a voter" to "a registered voter," so new voters can choose their party affiliation at the polls.
Rep. Lloyd Larsen, R-Lander, expressed concern about the effect the legislation would have on absentee voters and proposed an amendment that would allow a change in party affiliation upon request for an absentee ballot.
"What you could do is if you voted by mail, you could change your registration until that date," Larsen said.
All three amendments were adopted. But the ultimate motion on SF 97 was to give it a "do not pass" recommendation.
"A no means yes," Nicholas said.
Simpson asked if the motion could be overturned.
"It is essential that the motion be in this language," said Nicholas. "We are only expressing the belief and position of the House Appropriations (Committee), and the (House) prosecution will decide what they want to do with the bill."
Simpson and Stith voted no on the motion, becoming the two lawmakers in favor of SF 97. Rep. Tom Walters, R-Casper voted in favor of a "do not pass" recommendation; Representative Mark Kinner, R-Sheridan; Schwartz, Larsen and Nicholas.