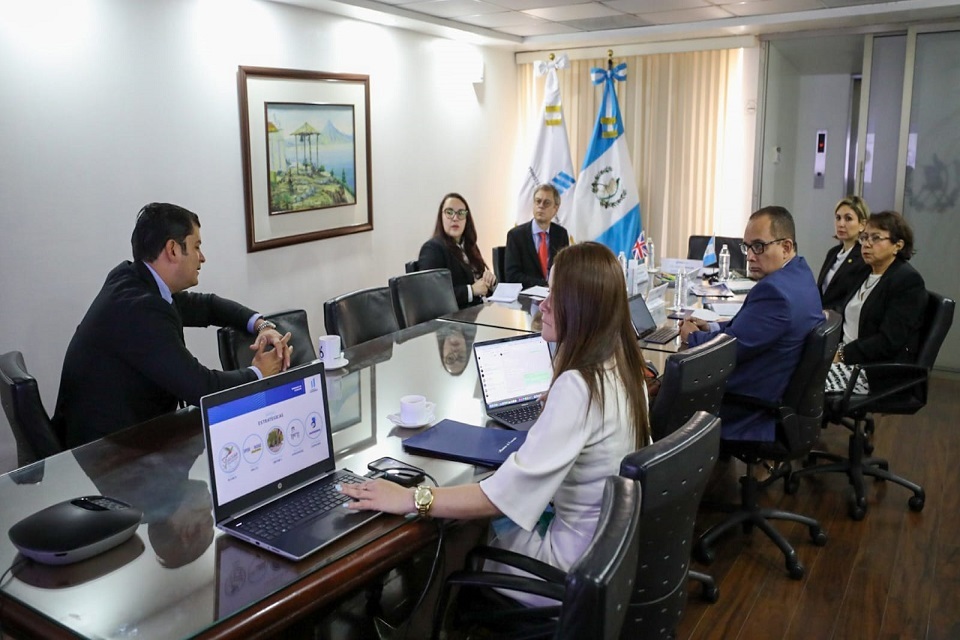 British Ambassador meets new Guatemalan Economy Minister
British Ambassador to Guatemala Nick Whittingham met Janio Rosales, Minister of Economy, to discuss the country's plans under the 'Guatemala Does Not Stop' strategy which aims to improve the business environment business and to attract more investment, particularly in the infrastructure sector.
Ambassador Whittingham explained that the UK wants to foster honest and reliable investment, through trade and mechanisms such as the support of UK Export Finance (UKEF) in the region, drawing on the expertise UK Financial and City of London Assets and offering the Minister's Prime Vision for the Clean Green Initiative – helping countries develop their economies in a sustainable way.
Ambassador Whittingham and Minister Rosales discussed the implementation of the Association Agreement between Central America and the United Kingdom, which has gone smoothly since its entry into force. In 2022, the agreement will host special committees to continue to take advantage of its advantages, in order to increase trade flows between Guatemala and the United Kingdom.
The Ambassador also stressed the importance of working with Guatemala in multilateral forums, such as the World Trade Organization, to agree on a positive and forward-looking agenda that promotes inclusive free and fair trade. and sustainable. He urged Guatemala to join the international community in putting economic pressure on Russia to end the war in Ukraine, which is driving up food and fuel costs around the world.
The Deputy Minister of Integration and Foreign Trade, María Luisa Flores; the Deputy Minister of Investment and Competition, Francisca Cárdenas; and the Deputy Minister of Registration Affairs, Juan Carlos Pellecer, also participated in the meeting.
In 2021, bilateral trade between Guatemala and the United Kingdom amounted to US$225 million; Guatemalan exports to the UK market were US$140 million, while UK exports to the Guatemalan market were US$84 million. The main Guatemalan products exported were vegetables, fruit, coffee, beverages and sugar, while the main British products were cars, beverages, chemicals and specialized machinery.