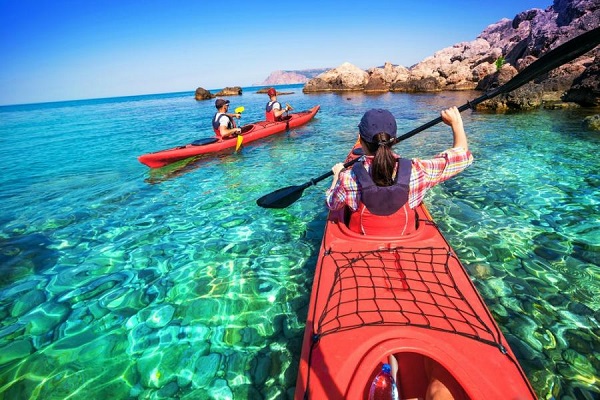 Adventure Travel Trade Association takes steps to facilitate tourism development among forward-thinking nations
The Adventure Travel Trade Association (ATTA) has facilitated the signing of a declaration for a more transformative future for tourism among countries seeking to grow their adventure travel industry while contributing to a sustainable and regenerative recovery of the tourism industry as a whole.
During ATTA's AdventureNEXT Latin America adventure held earlier this month, Panamanian Tourism Minister Iván Eskildsen brought together tourism counterparts from Colombia (Ricardo Galindo Bueno), Costa Rica (Gustavo Alvarado), Ecuador (Niels Olsen), Guatemala (Alejandro De León) and Honduras (Luis Guillermo Chévez Contreras). They joined senior authorities from Brazil (Secretary of Tourism, Mato Grosso do Sul, Bruno Wendling) and Jordan (Malia Asfour, Director, Jordan Tourism Board, North America) for a roundtable on commitments to a more sustainable and transformative future for tourism. . The ATTA has helped facilitate this discussion as part of its ongoing commitment to follow up on the United Nations World Tourism Organization's call for the public and private sectors to work together and seize the opportunity to place the sustainability and inclusiveness at the heart of the restart and recovery of the tourism sector.
Commenting on the initiative, ATTA Chief Executive Shannon Stowell said: "It was inspiring that all of these countries who see arguably the greatest benefits of a robust tourism industry, have come together and unanimously agree on how tourism should recover in a sustainable way.
"There was no question about the commitments that needed to be made as leaders in tourism, rather about collaboration and the need to work together for the benefit of the global industry."
Other signatories included Gabriella Stowell, ATTA Regional Director for Latin America and the Caribbean, and Fernando Fondevila, General Manager of Promotur Panama.
The statement, titled Transformation Towards The Tourism Of The Future, proclaimed:
We agree that the future of tourism is collaborative, bringing together the ancient wisdom of local and indigenous communities with pioneering scientific, business and economic knowledge in the service of the long-term management of integrated ecosystems.
We believe the future of tourism is regenerative. it is our opportunity to rethink the way we interact with nature and people to regenerate invaluable ancestral knowledge in order to face the current anthropogenic climate crisis.
We recognize that the future of tourism is green and blue. it is imperative that our industry protects and regenerates the last wild spaces and carbon sinks on land and ocean.
We are committed to the transformation towards a carbon-neutral and more socially resilient tourism economy – including new business models through digitalisation – thus offering the opportunity to ensure an equitable distribution of its benefits and contribute to a global economic reactivation .
AdventureNEXT Latin America also marked the first meeting of tourism ministers from these often competing destinations and the creation of a cooperative working group to share best practices and measures of success to be reviewed annually, facilitated by the ATTA.
Asfour, also a board member of the ATTA, added "in addition to being a vital trade association within the tourism industry, the ATTA is also a catalyst, and I was proud to sign on behalf of Jordan and our experiences as countries working together towards more resilient and sustainable tourism practices.
"When Jordan created the Meaningful Travel Map to showcase tourism social enterprises, we always hoped it would be an example for other countries in the Middle East and beyond to emulate. By coming together as a working group, these Latin American tourism leaders will soon be sharing best practices with the global tourism industry.
With sustainability as a central pillar of ATTA's vision, AdventureNEXT Latin America Panama was held February 9-11 and focused on Climate, connection and communityin order to integrate innovative tourism strategies.
The event's three-day schedule began with a series of pre-adventures taking place across the region, connecting international and regional buyers, alongside travel media, and showcasing cuisine, community and local cultures of Panama.
The conference also included keynotes and panel discussions, a market of pre-scheduled meetings to develop partnerships, and networking opportunities focused on conversations around the positive impact of community tourism.
The bottom image shows the meaningful travel map of Jordan.
Related Articles
February 6, 2022 – United Nations report highlights importance of tourism in global economic recovery
February 3, 2022 – WTTC reveals tourism industry's contribution to global GDP could reach $8.6 trillion in 2022
January 31, 2022 – Adventure Travel Trade Association appoints new Regional Director for Asia as it focuses on the region's potential
December 30, 2021 – UN study points the way to creating a more sustainable model of mountain tourism for people and the planet
December 30, 2021 – Challenge to build a more sustainable mountain tourism industry
December 27, 2021 – Global tourism leaders, academics and entrepreneurs focus on recovery via virtual conference
December 3, 2021 – WTTC identifies digital solutions to help governments restore international mobility
November 21, 2021 – WTTC report finds tourism industry in Asia-Pacific expected to recover by almost 40%
November 10, 2021 – WTTC launches Net Zero roadmap to guide global tourism
November 1, 2021 – Japan promoted as an adventure travel destination
October 21, 2021 – A look back at the United Nations Year of Sustainable Tourism
June 30, 2021 – UN report says COVID-19 impact on tourism could deal $4 trillion hit to global economy
15 March 2021 – New UNWTO report on global travel restrictions shows easing measures slowing
24 December 2020 – UNWTO stresses that tourism is "facing the future with determination"
August 19, 2020 – ISO informs about updated adventure tourism standards
May 13, 2020 – UNWTO says international tourism faces worst crisis since records began
March 12, 2020 – New national guidelines for guided outdoor adventure activities
February 1, 2014 – UN resolution recognizes ecotourism as key to sustainable development
May 31, 2013 – Work begins on $1.5 billion theme park in Jordan
---
Support our industry news service
We hope you enjoy the news we post, so while you're here can we ask for your support?
As an independent publisher, we need reader support for our collection of industry insights, so ask – if you're not already – to support us by subscribing to the print version. Australasian Leisure Management magazine and/or our online news.
Click here to see our subscription options.